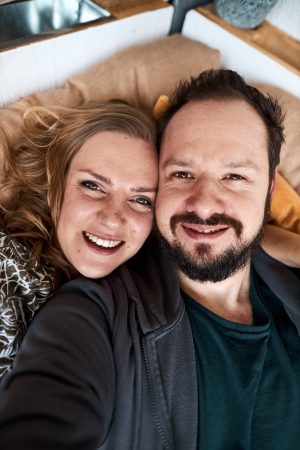 The man and woman team behind the camera. We live and love our work.
To describe us in two words, we are "Creative Connoisseurs". I, Alena, grew up with the camera. Even as a child, my father knew who to look for the camera from when he was looking for it. Daniel is a born musician. At a young age he wrote music, played it and even produced it professionally himself. During our business administration studies, we both noticed that we were both lacking in economic knowledge and creativity. That's why, after our own civil wedding, we decided to start our own photography business. That was one of the best decisions of our lives. Because since LIFE we have been doing our job every single day.
Within 1.5 years, we added videography, which Daniel takes care of with all his heart, and we were able to gain a lot of experience regionally and worldwide in both areas. We love to travel, to get to know people from different cultures, to live out our professional passion and to enjoy the moment with a glass of red wine in our free time.
It gives us immense pleasure to make people happy during the photo shoots and when submitting the photos & videos.
Our greatest praise - are the tears of joy at the priceless gift that will remain with them for eternity.
You can expect that from us
Just making a report is not our style.
It is important to us to be a part of your wedding and to make a significant contribution to make it even more unforgettable. We treat every bridal couple and their families & guests like very good friends. This way we can win everyone's heart for the eternal memories in the photos, sharing fun and capturing beautiful moments. And that is exactly what makes us special.
The second important task that we set ourselves: to relieve you as much as possible, to help you and to keep your head free as much as possible on the day of your wedding so that you can enjoy the time. That's why we help you to create an optimal schedule and give you lots of tips and ideas to make your day even better.
We are there wherever you need us, but we also remain unnoticed when the situation calls for it.